The Phantom of the Opera Slots (Microgaming)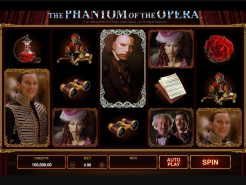 Play Now
This classic and timeless, tragic tale of love, obsession and horror still thrill today as much as it did at inception. The game is graced with the tunes and music of Andrew Lloyd Webber's seminal musical. The marriage of the music together with the Phantom tale is brought to vivid life here with this slot.
There's no escape from the Phantom
The only chance of beating the Phantom is to understand how to beat him at his own game. The innovative game features are the cherry on the cake, and we'll come to those later. For now, let's have a look at the game system. There are 5 x 3 Reels and astronomical 243 ways to win the game. The minimum bet is just $0.30 with a potential maximum payout of $116,000! That's pretty tempting and makes it worth investigating further.
Phantom's Symbols
The Phantom of the Opera has several interesting game characters displayed on the reels. These add a touch of atmospheric horror to the theme. Once you factor in the beautiful music score, the effect is quite potent. Besides the titular Phantom, other related symbols grace the game. The mysterious Letter symbol is another to look out for. If it appears, it may open up to reveal a cash prize.
Phantom Features
Watch out! The opera house chandelier may fall at any moment of the game, to transform the reels into Wilds. In fact, this game is loaded with great special features and bonus rounds.The Chandelier Bonus round is activated at random, and If the three Phantom Mask Scatters land on selected be reels, they will trigger one of three unique features. These are; the 'All I Ask of You' Free Spins, with Dancing Wilds. The second is; 'Music of the Night' Free Spins, which offers lucrative Phantom bonuses. Then there is the multi-level Masquerade Pick Bonus. All three are engaging and add real value, especially if they end up winning you a high payout.
Verdict & Summary
The Phantom of the Opera slot is worth a try. There are many factors in its favour. The theme is impressive, the casino action non-stop, the bonuses outstanding, the overall flow of the game creates pure entertainment and hot gambling action. The game system works wonders as it contributes towards a mind-blowing game. Everything a player would want is here along with Wilds, Scatters and multiple winning chances. The game is specially optimised for mobile, and this version of the game can be enjoyed on the go, at any time or place. All that remains is for you to dip your finger into the pie which is Phantom of the Opera slot. Feel the fear of the Phantom and face his horror and anguish. If you survive his evil, you can buy yourself a ticket into heaven with the highest payout the game offers. The Phantom of the Opera slot is a challenge you just cannot turn down.